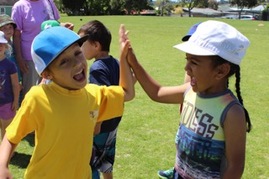 Welcome to Beach Haven Primary School
As you plan your child's journey to school we know this can be an overwhelming time with many decisions which need to be made.  Our hope is to assist you in making the right choice for you and your family.   At Beach Haven Primary School we encourage a inclusive, progressive culture where children can establish the solid foundations they need to make their way through life.
We look forward to having your child start their learning journey with us!
Ready for the Next Step..
If your ready to start looking into schools or your child will shortly be turning 5 we can help you with your next step. 
Open morning at which you and your child can visit classes while they work to get a feel for the environment.  You are guided by our senior students which gives you a chance to get their recounts of how they have found their time at Beach Haven Primary.  This tour finishes in our library where you will have a chance to speak with the Principal, DP and the Junior AP, asking any questions you may have.
When you have made the decision and are ready to get started pop in and see Claire or Mel in the office they can give you the enrolment information and walk through the process ahead.  Alternatively you can complete our online enrolment form and then drop in with your child's birth certificate or passport and immunisation information to the office.
Prior to your child starting they will be invited to two pre school visits, we ask that you or a family member comes with them and remains on site during their visit.  The visits are normally for one block each and we try and make them for two different periods so the children can get a sense of what a day might run like.
Beach Haven offers a very special start to school in our Reception class, this is a BOT funded programme which has been running at the school for many years and we feel its a more gentle way for children to start their schooling careers.  Our reception classes are based in the back of the school and are fully fenced providing a safe environment while everyone is adjusting to the more independent nature of school.  The classes are maintained at a smaller scale so that the teachers there can focus more on the transition and undertaking initial assessments.  Students are moved from these reception classes in small groups as they become ready to transition through to a bigger classroom.  This more personalised approach we have found makes the sometimes daunting transition a lot easier for children and parents.